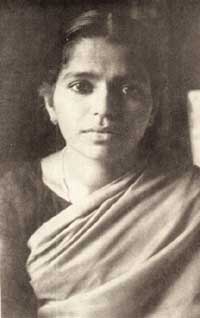 T.K. Padmini was born on May 12, 1940 in Kadancheri a remote and sleepy village off Ponani, a coastal town of Kerala. She had her education at A.V. High School, Ponani. Had a brief course of training from Mr. K.L. Devassi, the arts teacher of A.V. High School and Mr. K.M. Vasudevan Namboodiri (Artist Namboodiri), the well-known painter, sculptor and illustrator. She joined the College of Fine Arts and Crafts at Chennai (formerly Madras) in 1961 under the guidance of Principal K.C.S. Panikkar, and received Diploma in Painting (first class, first rank) in 1965). She had worked in Madras Vidyodaya Girls High School, Adarsh Vidyalaya Matriculation School and Children's Garden School, as teacher. In May 1968 she married her co-student and well-known painter K. Damodaran.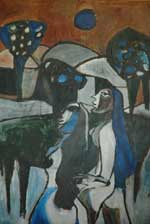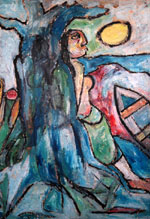 Padmini, during her very short life, surpassed apparently insurmountable problems to come out of the limitations that destiny imposed on her in terms of geography, people and custom. Her unflagging courage helped her to face obstacles and leave an indelible mark of her personality on Indian painting. Sadly, destiny caught up with her ending her life at the ripe age of 29 when lot more of her artistic contributions were waiting to come out. After Amrita Sher Gill, seldom has as strong a feminine presence overwhelmed the Indian artistic sensibility as that of Padmini's. Her paintings provide an insight to the viewer about what a woman sees and priorities in woman's body and soul as subject of art. This web site is intended not only to be a tribute to her memory but also to bring her life and work to a wider global audience.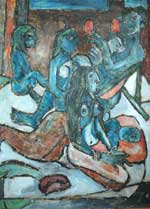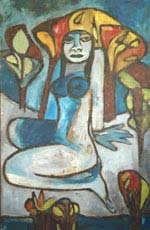 Padmini's paintings carry pure imageries of the serene and peaceful village, and our cultural life. And surely, all right thinking art lovers would be convinced that these are the imageries and archaic symbols that need to be nurtured to preserve our cultural heritage. It seems that only the goodness of the archetypical village, a bit of which all of us carry, sustains life in the long term.
Awards:
Madras State Lalit Kala Academy '63 highly commended certificate for the painting 'Growth', Madras State Lalit Kala Academy '67 Award for 'Dreamland', Madras State Lalit Kala Academy '67 Award for 'Dawn', A.Y.P.S. '65 Award for 'Women'.
A detailed life sketch of Padmini is available in the articles about her written by three men who were intimately connected with her life, viz., Mr. T.K. Divakaran, her uncle; Mr. K. Damodaran, her husband; Mr. Edasseri Govindan Nair, the famous poet.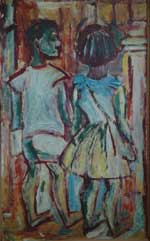 Collections:

86 paintings of Padmini have been displayed at the Durbar Hall Gallery of Kerala Lalithakala Akademi in Kochi and a few drawings kept in the archives of the Akademi in Thrissur. Padmini's paintings are also displayed in the collection of the National Gallery of Modern Art, Madras ('Portrait' and 'Burial Ground'), Salar Jung Museum, Hyderabad apart from private collections in India and abroad.

The book published by the Kerala Lalithakala Akademi, Thrissur, Kerala, on T.K. Padmini. Please click here for photos of the Release Function of the Book