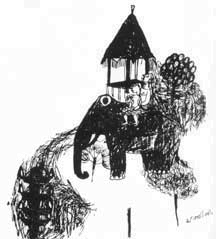 ARTIST T.K. PADMINI
(1940 - 1969)
THE MAIL, 26th September 1965
".....and Padmini are fascinating to a certain extent for the innovative nature of their imagery derived out of landscape motives. Birds and animals are well knitted with pictorial logic. A subtle symbolism also plays a part in their works....Padmini, one of the promising young painters of the south appears to be interested in evolving a suitable idiom to express the poetic charm of rural life."
Six Madras Artists Show
THE MAIL

, 27th October, 1965

"The lyrical and poetic take its different attributes in Krishnamurthy, Padmini and Sunanda."

Young Painters & Sculptors Exhibition,
Govt. College of Arts & Crafts, Madras
THE HINDU, 14th March 1969

"'The bird' and "Girl with a kite" in oils by T.K. Padmini show an exquisite sense of the palette."
Creative Forum's Art Exhibition
Madras, March 1969
THE HINDU, 5th April 1968

"Padmini maintain an individual idiom of her own. Padmini's dark and short women live, amidst luxuriant vegetation, with blue hills, under a moonlit sky. Her rich landscape with green verdure, cluster of trees and bunches of flowers, provide an appropriate background for her women going to the serpant temple (typical of Malabar) wandering in the Garden, or enjoying themselves in natural surroundings. "The lovers" portrays a red tiled house, with two birds on the roof, with trees all around, while the "burial ground" depicts a bent women, stricken with grief, in a dark gray background. "Dancing Girl", "Girl in the Garden", "Festival" and "The love" are other significant canvasses in the exhibition
One Man Show at Madras
THE ARTRENDS, Vol. VI Jan-April 1967

"A certain Gauginesque luxuriance of color distinguishes Padmini's paintings. Her women live or idle amidst tropical trees and brooks full of flowers and green verdure, surrounded by blue hills and undulating landscapes. Her more recent work reflect the styles and techniques of fellow painters in Madras, but Padmini still maintains her distinctness of personality. She has evidently digested these influences and made them part of her own self. Her approach to painting is romantic in character and one feels that her technique should lend itself to mural painting admirably.
FEMINA 1965

"The only woman painter, Padmini portrayed strength of personality in the bold use of colours and her "figures in landscape" was one of the most outstanding of the six on display."

Six Madras Artists Show
At The Museum Centenary Hall, Madras
THE STATESMAN, Mar 18, 66

"Miss T.K. Padmini is among the most original, Except when her work is too dark (figures in landscape). She created splendid nudes, with strong emphasis on lines she likes, and in bold compositions."
Six Madras Artists Show
AIFACS, New Delhi,
THE MAIL, 3rd December 1965

"Padmini has moved to a greater sharpness of lines. Her recent work (e.g. "Gay Life") is concerned with the depiction of fantasy and abounds in flowing lines, but it does not have the lyricism of her earlier Gauginline "Meditation". She has gained in precision although parts of some of her paintings are marred by an excess of lines, which borders on the scribe."
Three Women Artists Show