PROGRAMME

Wednesday 1 2006
11 a.m.
Inaugural Session
Welcome:
K. Sachidanandan
Secy, Sahitya Akademi
Presidential Address:
Mahakavi Akkitham
Inaugural Address:
Indranath Choudhuri
Keynote Address:
Sukumar Azhikode
Vote of Thanks:
Agrahara Krishnamurthy
Sahitya Akademi
12.30 p.m.
Session I: Indian Poetry -
Time of Awakening
Chair: Balachandran 'Bala'
Papers: O.L.NagabhushanaSwamy
Arun Kamal
M.R. Raghava Varier
Thursday 2 2006
9.30 a.m.
Session II: Edasseri's Poetry
Chair: S.K. Vasanthan
Moderator: M. Rajanbabu
Paper: E.P. Rajagopalan
Chathanat Achyuthanunni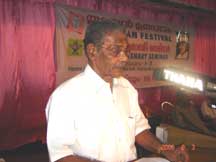 11.30 a.m.
Session III: - Stylistic Aspect of Edasseri
Chair: Dr. C.P. Sivadasan
Moderator: P.K. Gopi
Papers: E.V. Ramakrishnan
Anil Vallathol

2.00 p.m.
IV: Edasseri's Poetry: Cultural Context
Chair: K.P. Sankaran
Moderator: Alankode Leelakrishnan
Papers: K.P. Mohanan
B. Krishnakumar (Atmaraman)
M. Gangadharan

4 p.m.
Session V: Edasserian Stage.
Chair: A. Achuthan
Moderator: C. Haridas
Papers: P.P. Ramachandran
N. Sasidaran
7.00 p.m.
Session VI: Discussion and Performance of
Edasseri's play "Koottukrishi"


A detailed report on the Seminar will be on these pages shortly.... We regret Mr. M.T. Vasudevan Nair, Chairman, Thunchan Memorial Trust, who organized this elaborate National Seminar could not attend this function due to indisposition. We thank Mr. M.T. Vasudevan Nair and the Administrator Mr. K.P. Ramanunni for organizing the Seminar in a befitting manner. We thank the Sahitya Akademi, Delhi and the persons responsible especially Mr. K. Sachidanandan, Secretary and their Southern Regional Office in Chennai for sponsoring this Meet.