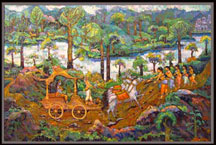 Release of the painting
by Artist C.N. Karunakaran
based on the Poem "Ambadiyilekku Veendum"
by Mahakavi Edasseri Govindan Nair on February 15, 2006
At Orthic Creative Center, Thrissur
Releasing: C. Radhakrishnan
Poem Recital: Mangot Krishnakumar
Appreciation of the Painting: Artist C.S. Jayaram
Click Orthic Creative Center Exhibiting C.N.Karunakaran Painting
1. Anniversary of Edasseri Smaraka Samithi 23rd December 2010
2. Inauguration and recital of Edasseri Poems by children,
who had participated in Kairali TV Mambazham
Program.
3. Presentation of Edasseri Award to P.M. Govindanunni for his
collection of poems 'Amaratharakam'
4. Edasseri Memorial Speech by Dr. B.V. Sasikumar
Click Anniversary 2010 for pages
.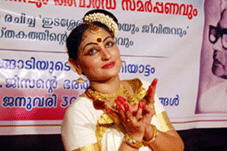 Annual Day 23rd December 2011
1. Inauguration by: Artist Namboodiri
2. Recital of Poems: students
3. Presided over by: Mahakavi Akkitham
4. Memorial Speech: Dr. M.N. Karasseri
5. Book on Edasseri written by Sri P. Krishnawarriyar was
released by: Mahakavi Akkitham
6. Presentation of Award to Sri P. Vijayakumar: Mahakavi Akkitham.
Click Anniversary 2011 to view pages
.

3rd December 2011
Release of a book "Edasseri, Jeevithavum Kavithayum" written by
Sri. P. Krishnawarriyar.
The function was presided over by Mahakavi Akkitham who released the book.
Prof. K.V. Ramakrishnan, Dr. P.V. Krishnan Nair, Mr. K. Gopalakrishnan, Secretary, Kerala Sahitya Akademi, Alankode Leelakrishnan, Mr. Chithran Namboothiripad, Mr. P.P. Ramachandran, Mr. Biju Nayarangadi, etc. spoke on the occasion.
Click Release of P. Krishnawarriyar's Book on Edasseri to view the page
.
23rd December 2012

Annual Day Celebrations 2012
Welcome speech: Prof. K.V. Ramakrishnan
Inauguration: Dr. Chathanath Achyuthanunni
Presidential Speech: Mahakavi Akkitham
Memorial Speech: Manoj Varma
Introducing the award book: Prof. S.K. Vasanthan
Award Book: 354-lekku Neelunna Yathrakal, collection of stories.
Award presentation: Mahakavi Akkitham
Release of book n by P. Krishnawarriyar on Edasseri: Prof. K.P. Sankaran
Speech of the award winner: Rafel Thykkattil
Click Annual Day Celebrations 2012 to view the pages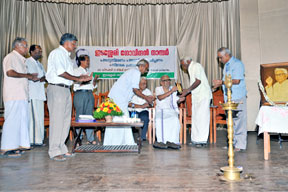 23rd December 2013
Annual Day Celebrations 2013
Welcome: Prof. K.V. Ramakrishnan
Inauguration: Dr. M.G.S. Narayanan
Introducing the Award Book: Dr. K.P. Mohanan
Award Book: Malayalakavitha Adhunikathayum Parambaryavum
by Dr. M.R. Raghava Warriyar
Award Presentation: Mahakavi Akkitham
Memorial Speech: Dr. Valsalan Vathusseri
Speech of the Award Winner: Dr. M.R. Raghava Warriyar
Click Annual Day Celebrations 2013 to view the pages
23rd December 2014
Annual Day Celebrations 2014
Welcome: Prof. K.P. Sankaran
Inauguration: Dr. Chathanath achyuthanunni
Award Presentation: Mahakavi Akkitham
Award winner: Unnikrishnan Cheruthuruthi
Memorial Speech: Atmaraman
Inauguration of Mahakavi Edasseri Trust: Dr. P.V. Krishnan Nair
Release of the book Daheli: Dr. S.K. Vasanthan
Click Annual Day Celebrations 2014 to view the pages

---